Regis Garden Care is based in Chichester, West Sussex providing gardening services to residential and commercial grounds throughout Chichester and the surrounding area. From planning to hardscaping, planting and general garden maintenance, we are able to take care of your outdoor space. We work with residents and commercial property owners and landlords.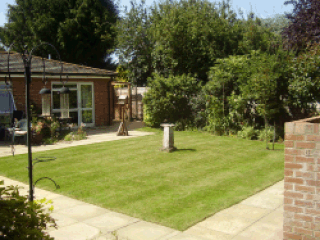 Be it an individual job or a regular contract, we will take the hassle out of caring for your outdoor space.
We take great pride in our work, whether it be lawn cutting, pruning, weeding, hedge trimming, tree work, rubbish clearance or simply providing regular gardening services & general garden maintenance.
We are all passionate about gardening, no job is too big or small. We suggest viewing our gardening services gallery to see the different examples of our work.
Visit our products page to find out more about the different types of products we use and can supply. We have built an excellent reputation over the years, feel free to check our testimonials page where you can read some feedback from clients who have benefited from our garden care services.
Please contact us to arrange a no obligation meeting where we can assess your individual requirements, quickly and effectively. We look forward to hearing from you.